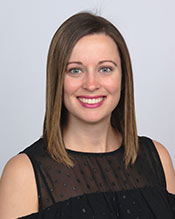 Dental Hygienist
Jillian has been in dentistry since 2009 when she began working at McNamara Orthodontics. It was her first job following her dental assisting education at Washtenaw Community College. During her time here she also met her husband John while he was shadowing during dental school.
In 2014, Jillian graduated from the University of Michigan with a degree in dental hygiene. Since then she has worked as a hygienist and when the opportunity to return to McNamara Orthodontics became a reality, she jumped at the chance to return to where it all began.
Jillian and her husband John reside in Chelsea with their two cats, Ivy and Thor. They enjoy running, biking, and watching movies.