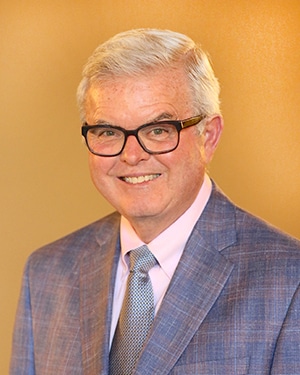 Dr. James A. "Jim" McNamara has practiced orthodontics in Ann Arbor since 1971. Born in San Francisco, he is a graduate of the University of California Berkeley with a major in Speech. Dr. Jim received his dental and orthodontic education at the University of California San Francisco Medical Center and a Doctorate in Anatomy from the University of Michigan.
Dr. Jim is the Thomas M and Doris Graber Endowed Professor Emeritus in the Department of Orthodontics and Pediatric Dentistry in the U of M School of Dentistry. He also is professor emeritus in the U of M Medical School and former research professor at the Center for Human Growth and Development, an interdisciplinary research unit on the Ann Arbor campus.
Dr. McNamara is considered an innovator in orthodontic diagnosis and treatment, with expertise in expanding the upper jaw and in other protocols aimed at changing the way the face grows. He also served for over 25 years as the director of the interdisciplinary course that deals with the management of older patients with complex restorative and surgical needs (orthodontic, periodontic, and restorative/prosthodontic problems). He also is the curator of the University of Michigan Growth Study, a longitudinal investigation of normal children as they mature into adulthood.
Dr. Jim lectures nationally and internationally, having given courses in 45 countries, and he has authored over 330 publications (for a list of publications click here). He also has written, edited, or contributed to over 80 books on orthodontics and craniofacial biology, including the widely used textbook Orthodontics and Dentofacial Orthopedics. Dr. Jim also founded the Graduate Orthodontic Residents Program in 1989, a summer meeting of 500 orthodontic residents from the US and Canada.
Dr. Jim has received much recognition during his career for his patient care, teaching, and research efforts as well as his service to the specialty of orthodontics. These include:
The Lifetime Achievement Award in Orthodontic Research, given by the American Association of Orthodontists in 2021.
The Albert H. Ketcham Memorial Award, the highest award given by the American Board of Orthodontics in 2008. This award generally is considered the most prestigious award in orthodontics worldwide.
The James E Brophy Award, the highest award given by the American Association of Orthodontists in 2001.
The Research Recognition Award of the American Association of Oral and Maxillofacial Surgeons in 1983.
The E. Sheldon Friel Memorial Lecturer of the European Orthodontic Society in 1979.
The Milo Hellman Research Award given by the American Association of Orthodontists in 1973.
Dr. Jim is a Diplomate of the American Board of Orthodontics and a Fellow of the American College of Dentists. He also is past president of the Midwest Edward H. Angle Society of Orthodontists.
Dr. McNamara lives in Ann Arbor with his wife Charlene, who runs a small publishing company and also is a mosaic artist. Their daughter Laurie McNamara McClatchey is an orthodontist who teaches with him at the university and is Dr. Jim's partner in this practice. Dr. Laurie is married to Stephen, an IT manager at the university. They have two children, Sophia and Alex. Their son David McNamara is a real estate broker and co-owns Foxway Realty in Ann Arbor with his spouse Juliet. They have two daughters, Elaina and Kendall.
Dr. Jim is an avid photographer, supporter of U of M basketball and football, and also pretends to be a golfer.