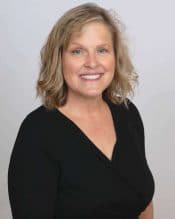 Liz Maxbauer, RDH
Liz was born and raised in Traverse City, Michigan, where most of her family still resides. As a graduate of the University of Michigan Dental Hygiene program, her first job out of college was with an orthodontist. While this is slightly unusual for a hygienist, it proved to be fortuitous as she has worked for a total of eight orthodontists during her career.
She started in our office in 1982, working chairside directly with patients. While her duties keep her primarily at the front desk, you may see her occasionally working chairside with patients or helping with sterilization or lab work.
She says, "I love our team because everyone genuinely cares about our patients and the quality of work we do. I take great pride in working with such high caliber doctors and staff. I find my position as office manager, as well as the field of orthodontics, to be fascinating because it continually challenges me to develop my skills in a variety of directions, involving science, technology, and human relations. We don't just straighten teeth, we change lives!"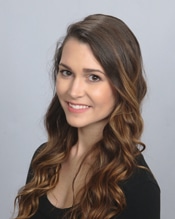 Laura Goodell
Laura grew up in Manchester Michigan. In 2014, she and her husband Seth, purchased their first home there. They love living out in the country, where they now have enough home renovation projects to keep them busy for the entirety of their mortgage. After high school, Laura attended both Washtenaw Community College and Siena Heights University, where she completed her bachelor's degree in 2015.
Not knowing exactly what career path she wanted to take, she started exploring her options. Having extensive background in customer service, and a knack for organization, she knew she would thrive with McNamara Orthodontics.
Laura also prides herself in teaching ballet and Jazz to both children and adults. She's been teaching since 2010, and now runs her own dance program in her hometown. Dance is Laura's creative outlet, and she finds working with children to be exceptionally rewarding. In her free time she loves taking on new projects around the house with her husband, visiting with her family, and hanging out with her two cats Scully and Lloyd.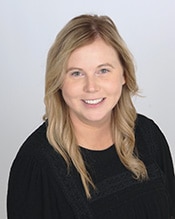 Christine Stiffler
Christine is an Ohio native.  She attended the Dental Assisting Program in Maumee, Ohio in 2017.  Upon graduation, she worked as a dental assistant in an orthodontic office before moving to North Carolina, where her husband Dylan was stationed as Active Duty Army.  While in North Carolina, Christine worked in the front office as a patient representative and treatment coordinator for a general dentistry office.
The Army then brought her family to Michigan in 2020.  Christine and her husband love spending time with their three children; two boys and a girl, along with two 2 dogs! She is very excited to get to jump back into orthodontics and to continue to work with patients on a personal level. We are very excited that she has joined our team as she brings experience and expertise that we value.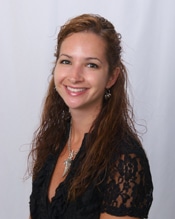 Lisa Wise, RDH
Lisa is a native of Michigan and grew up in Allen Park. She graduated in 2000 from the Dental Hygiene program at Wayne County Community College District. She lives in Allen Park, Michigan, with her husband Ron.  They have two daughters.
"My mom was a dental assistant, which is why I went into the dental field. I was also a dental assistant for three years prior to going into the dental hygiene program. I have always loved to make people laugh and smile, so this field was a perfect fit."
Lisa has been a perfect fit in our office since she joined us in 2003. One of Lisa's favorite holidays is Halloween. She and her husband actually got married on Halloween in 2001, in Wonder Woman and Superman Costumes, respectively. Lisa also enjoys camping, concerts, golfing, vacationing and going to college and professional sporting events.
By the way, check-out Lisa's smile; compliments of the braces she wore from our office.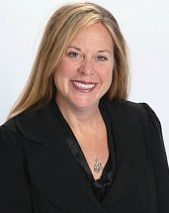 Julie Lenders, DA
Julie has been an assistant in general dentistry for more years than she cares to put in print. She then decided to pursue a new challenge and was so happy to find it within the specialty of orthodontics. "It has been a great experience learning the concepts of orthodontics. The doctors and staff are amazing; they are great teachers and very knowledgeable."
In her free time, Julie loves spending time with her boys, Josh and Aidan. "If I am not at a sporting event, you can usually find me with my dog Fern or in my flower beds." I am happy to be a part of the McNamara orthodontic team.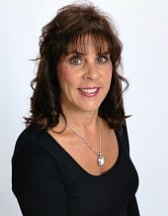 Ellen LaCombe, DA
Ellen has worked in the field of orthodontics for 16 years. She took a brief hiatus from dentistry for a few years to open a family restaurant and to spend more time with her daughters, Stephanie and Samantha. Both girls were patients of McNamara Orthodontics and over the years our team got to know Ellen.
"Everyone in the office was pleasant and I thought it would be a great place to work." Little did we know that years later, Ellen would become a valuable part of our clinical team.
Born and raised in Michigan, Ellen now resides in Northville with her husband Kevin. In her spare time, Ellen enjoys exercise and spending time with her family.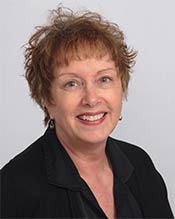 Wynona Allen, CDA
Wynona, originally from Waterford, Michigan got her B.S. in Medical Technology from Michigan State University. Following graduation, she worked in a laboratory until she started her own business which she ran for 19 years. During this time, Wynona moved to South Lyon, Michigan, where she raised her two sons, both of whom are in Ph.D. programs.
In 2000, Wynona switch careers becoming a Certified Dental Assistant. "I had the privilege of becoming an orthodontic technician and have been a CDA ever since. I am very excited to be part of McNamara Orthodontics and meeting new patients." Wynona resides in South Lyon. She enjoys traveling, music, reading, and education.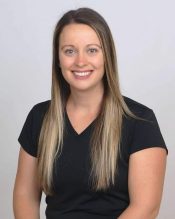 Jillian Dzingle, RDH
Jillian has been in dentistry since 2009 when she began working at McNamara Orthodontics. It was her first job following her dental assisting education at Washtenaw Community College. During her time here she also met her husband John while he was shadowing during dental school.
In 2014, Jillian graduated from the University of Michigan with a degree in dental hygiene and in 2017 received her Master's in Education from the University of Missouri – Kansas City.  She was working as a hygienist when the opportunity to return to McNamara Orthodontics became a reality and she jumped at the chance to return.
Jillian and her husband John reside in Chelsea with their daughter Sadie and their cat.  When not spending time playing with Sadie, they enjoy running, biking, and watching movies.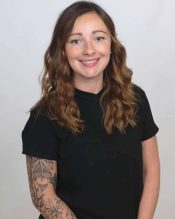 Brittney O'Grady
Brittney is a native to Michigan and grew up in Lowell. While in high school, Brittney also attended Kent Career Technical Center where she took cosmetology and culinary classes. Brittney now lives in South Lyon with her husband Ronnie and three kids Ethan, Ellie, and Kaden.
In 2012, Brittney graduated from the dental assisting program at Ross Medical Education Center. She worked in general dentistry for a short time before taking time off to spend with her family.
Brittney enjoys spending her summers on Lake Chemung, and the winters visiting with family up north. She has extensive experience in customer service but says she's never had a more rewarding job than this one. "Working at McNamara orthodontics has been such a privilege. The doctors and co-workers are amazing and have such a passion for teaching! I couldn't feel more blessed to be a part of this team!"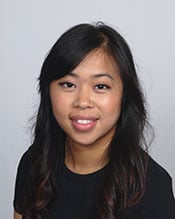 Tiffany Yang, RDA
Tiffany was born in Warren, Michigan. Her family moved often during her childhood and she graduated from high school in Missouri.  Following high school, Tiffany returned to Michigan, moving to Gaylord. Tiffany graduated from North Central Michigan College with an Early Childhood Education degree. She worked as a paraprofessional at a private school and planned to become an educator, but later found that career path was not the one in her heart. It was her aunt who suggested a career in the dental field and it really ignited her interest. Tiffany successfully earned her Registered Dental Assisting license at Northwestern Michigan College. She then worked for two years at a general dental office in northern Michigan.
Tiffany met her husband Jay while in school. Later, Jay moved to the Ann Arbor area to pursue a career in the culinary arts.  Tiffany joined him here after their marriage in 2019. We were thrilled to have Tiffany join our team shortly thereafter.
"What I love about working in the dental field is being able to give patients confidence in their smile. Growing up I never had a perfect smile and I want to be able to help patients who are going through the same problem as I am. I would like to thank Dr. Jim and Dr. Laurie for giving me the opportunity to join the team and help build confidence to everyone."
Tiffany enjoys spending time with her family and friends, and is a valued member of our team.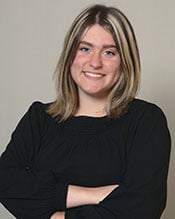 Madeline Adams, DA
Madi grew up in Tecumseh and graduated from Tecumseh High School in 2021.  While in high school, Madi showed great aptitude for school and was enrolled in the Lenawee Intermediate School District's Dental Assisting program from 2019 to 2020.  Madi has been working in general dentistry since 2021, and was very excited for the opportunity to try her hand at orthodontics.
In Madi's spare time, you will find her hanging out with her boyfriend, spending time outdoors or playing with her cat Roonie.
Madi says, "My favorite part about working at McNamara Orthodontics is getting to meet so many nice people".