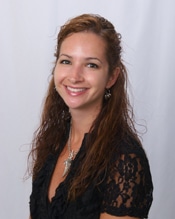 Lisa Wise, RDH
Clinical Staff
Lisa is a native of Michigan and grew up in Allen Park. She graduated in 2000 from the Dental Hygiene program at Wayne County Community College District. She lives in Brownstown, Michigan, with her husband Ron and their two children Kayla and Madison.
"My mom was a dental assistant, which is why I went into the dental field. I was also a dental assistant for three years prior to going into the dental hygiene program. I have always loved to make people laugh and smile, so this field was a perfect fit." Lisa has been a perfect fit in our office since she joined us in 2003. One of Lisa's favorite holidays is Halloween. She and her husband actually got married on Halloween in 2001, in Wonder Woman and Superman Costumes, respectively. Lisa also enjoys camping and participating in sports, horseback riding and Girl Scouts with her children.
By the way, check-out Lisa's smile; compliments of the braces she wore from our office. It won't be long before her girls also become part of our orthodontic family of patients. Then they, too, will see their mom at work; perhaps perpetuating the dental career started by Lisa's mom so long ago.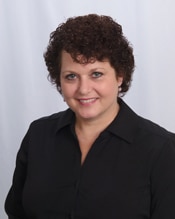 Pam Dennison, CDA
Clinic Coordinator/Clinical Staff
Pam was born across the street from our office at the "old" St. Joseph Mercy Hospital. She grew up in Ann Arbor and attended Allen Elementary School. Pam moved to Scottsdale, Arizona for four years, and returned to Michigan graduating from high school in Milan. Pam went to Washtenaw Community College where she obtained her associates degree in Dental Assisting. She took her national board exam and also became a Certified Dental Assistant. Pam worked in the same general dentist's office for thirteen years before coming to our office.
While Pam has many duties in our office, her favorite activity is keeping her patients entertained while waiting for the doctor. Pam has been known to quiz her young patients on their spelling words as well as give teens advice. She has been heard more than once advising kids that their braces will come off sooner if they keep their rooms clean and get their homework done! She would also love to know what you do for fun.
Pam has been married to Mike since 1981 and they have lived in the same home in Milan since 1983. They have two college-aged daughters, Andrea and Jennifer. Pam also has four dogs, two German Shorthaired Pointers (Jade and Cooper) and two Shih Tzus (Mizuno and Asic).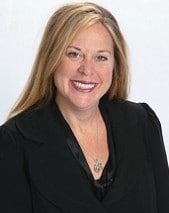 Julie Lenders, DA
Clinical Staff
Julie has been an assistant in general dentistry for more years than she cares to put in print. She then decided to pursue a new a challenge, and was so happy to find it within the specialty of orthodontics. "It has been a great experience learning the concepts of orthodontics. The doctors and staff are amazing; they are great teachers and very knowledgeable."
In her free time, Julie loves spending time with her boys, Josh and Aidan. "If I am not at a sporting event, you can usually find me with my dog Fern or in my flower beds." I am happy to be a part of the McNamara orthodontic team.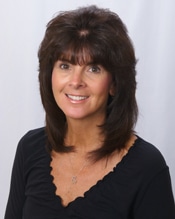 Jackie Ranta, RDH
Treatment Coordinator/Clinical Staff
Jackie is a native of Tecumseh, MI, where she and her husband Bill still reside. Together they have seven children, which keeps life fun and exciting. Yet even with a big family, she and Bill still find time to sneak away and go rollerblading together.
Jackie is a graduate of Owens Community College and has been a dental hygienist since 1984. As an orthodontic clinician and treatment coordinator, she finds her job both challenging as well as rewarding. She says, "Because of the high standards the doctors have set for themselves as well as the staff, there is continual growth and learning opportunities in our office."
She loves the interaction with the kids as well as adults. She is fascinated at being part of a team that creates beautiful smiles. Her own was created here as well! All of this just confirms the quote she loves: "A smile is worth a thousand words!!"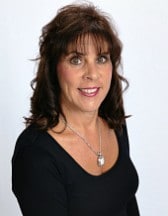 Ellen LaCombe, DA
Clinical Staff
Ellen has worked in the field of orthodontics for 16 years. She took a brief hiatus from dentistry for a few years to open a family restaurant and to spend more time with her daughters, Stephanie and Samantha. Both girls were patients of McNamara Orthodontics and over the years our team got to know Ellen.
"Everyone in the office was pleasant and I thought it would be a great place to work." Little did we know that years later, Ellen would become a valuable part of our clinical team.
Born and raised in Michigan, Ellen now resides in Northville with her husband Kevin. In her spare time Ellen enjoys exercise and spending time with her family.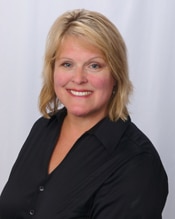 Liz Maxbauer, RDH
Office Manager
Liz was born and raised in Traverse City, Michigan, where most of her family still resides. As a graduate of the University of Michigan Dental Hygiene program, her first job out of college was with an orthodontist. While this is slightly unusual for a hygienist, it proved to be fortuitous as she has worked for a total of eight orthodontists during her career.
She started in our office in 1982, working chairside directly with patients. While her duties keep her primarily at the front desk, you may see her occasionally working chairside with patients or helping with sterilization or lab work.
She says, "I love our team because everyone genuinely cares about our patients and the quality of work we do. I take great pride in working with such high caliber doctors and staff. I find my position as office manager, as well as the field of orthodontics, to be fascinating because it continually challenges me to develop my skills in a variety of directions, involving science, technology, and human relations. We don't just straighten teeth, we change lives!"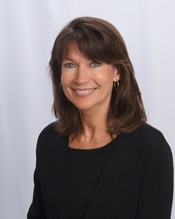 Mary Kivi
Appointment and Insurance Coordinator
Mary worked as an Orthodontic Chairside Assistant for six years before joining our front desk staff as the Appointment Coordinator in 2000. "The people are the best part of my job", she says. She loves greeting our patient family as if they were her own, as well as being a part of a caring professional team. In addition Mary is also the Insurance Coordinator, experienced at maneuvering through automated telephone menus and multitasking during long waits on hold.
Mary knows what the patients are experiencing, as she is a former patient herself (and still wears her retainers at night!) She enjoys developing relationships with our patients and their families while they are on their journey toward straighter teeth, and looks forward to all of their warm smiles along the way.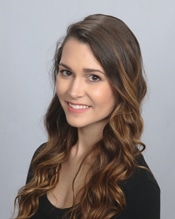 Laura Goodell
Appointment Coordinator
Laura grew up in Manchester Michigan. In 2014, she and her husband Seth, purchased their first home there. They love living out in the country, where they now have enough home renovation projects to keep them busy for the entirety of their mortgage. After high school, Laura attended both Washtenaw Community College and Siena Heights University, where she completed her bachelor's degree in 2015.
Not knowing exactly what career path she wanted to take, she started exploring her options. Having extensive background in customer service, and a knack for organization, she knew she would thrive with McNamara Orthodontics.
Laura also prides herself in teaching ballet and Jazz to both children and adults. She's been teaching since 2010, and now works with two different dance studios. Dance is Laura's creative outlet, and she finds working with children to be exceptionally rewarding. In her free time she loves taking on new projects around the house, visiting with her family, and reading any kind of book she can get her hands on.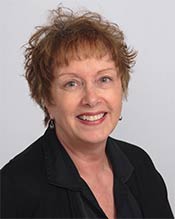 Wynona Allen, CDA
Dental Assistant
Wynona, originally from Waterford, Michigan got her B.S. in Medical Technology from Michigan State University. Following graduation, she worked in a laboratory until she started her own business which she ran for 19 years. During this time, Wynona moved to South Lyon, Michigan, where she raised her two sons, both of whom are in PhD programs.
In 2000, Wynona switch careers becoming a Certified Dental Assistant. "I had the privilege of becoming an orthodontic technician and have been a CDA ever since. I am very excited to be part of McNamara Orthodontics and meeting new patients." Wynona resides in South Lyon. She enjoys traveling, music, reading and education.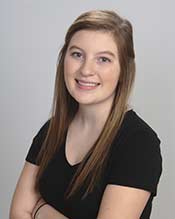 Julia Murry
Dental Assistant
Julia was born and raised in Adrian, Michigan. She completed a semester at Ferris State University before transferring to Jackson College. Currently, Julia is taking prerequisite classes prior to applying to the Dental Hygiene program at the University of Michigan. Julia previously worked as a dental assistant in a general dental office. She has expanded her functions to include orthodontics and absolutely loves it!
In her free time, Julia enjoys being at the lake and fishing. She also loves to drive Jeeps at the Silver Lake Sand Dunes, snowmobiling, and taking long Harley rides during the summer.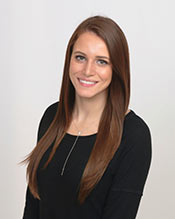 Samantha Sciancalepore
Dental Assistant
"Samantha grew up in Randolph, New Jersey, and moved out to Ann Arbor in 2014 to earn her undergraduate degree at the University of Michigan. She recently graduated from U-M with a Bachelor of Science degree in Biopsychology, Cognition, and Neuroscience. Samantha plans to attend dental school to further her career in dentistry. She is passionate about creating friendly and sincere interactions with patients, and she hopes to one day transform their health and smiles.
Samantha describes her time with us as "extremely rewarding because what McNamara Orthodontics does daily is just incredible. They are changing lives in a matter of minutes."
In her free time, Samantha loves to exercise outdoors (when the Michigan winters are not around), listen to new music and cook. Her parents own an Italian specialities business, and she has carried her passion for creating new recipes in the kitchen with her to Ann Arbor. "I am most happy when I can be myself and be creative," she says. "I love being able to use my creativity as an outlet for stress, especially while I am in school."