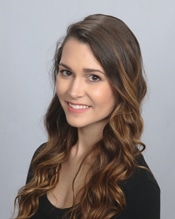 Appointment Coordinator
Laura grew up in Manchester Michigan. In 2014, she and her husband Seth, purchased their first home there. They love living out in the country, where they now have enough home renovation projects to keep them busy for the entirety of their mortgage. After high school, Laura attended both Washtenaw Community College and Siena Heights University, where she completed her bachelor's degree in 2015.
Not knowing exactly what career path she wanted to take, she started exploring her options. Having extensive background in customer service, and a knack for organization, she knew she would thrive with McNamara Orthodontics.
Laura also prides herself in teaching ballet and Jazz to both children and adults. She's been teaching since 2010, and now works with two different dance studios. Dance is Laura's creative outlet, and she finds working with children to be exceptionally rewarding. In her free time she loves taking on new projects around the house, visiting with her family, and reading any kind of book she can get her hands on.