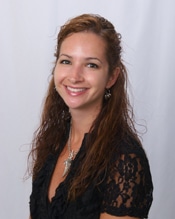 Clinical Staff
Lisa is a native of Michigan and grew up in Allen Park. She graduated in 2000 from the Dental Hygiene program at Wayne County Community College District. She lives in Brownstown, Michigan, with her husband Ron and their two children Kayla and Madison.
"My mom was a dental assistant, which is why I went into the dental field. I was also a dental assistant for three years prior to going into the dental hygiene program. I have always loved to make people laugh and smile, so this field was a perfect fit." Lisa has been a perfect fit in our office since she joined us in 2003. One of Lisa's favorite holidays is Halloween. She and her husband actually got married on Halloween in 2001, in Wonder Woman and Superman Costumes, respectively. Lisa also enjoys camping and participating in sports, horseback riding and Girl Scouts with her children.
By the way, check-out Lisa's smile; compliments of the braces she wore from our office. It won't be long before her girls also become part of our orthodontic family of patients. Then they, too, will see their mom at work; perhaps perpetuating the dental career started by Lisa's mom so long ago.