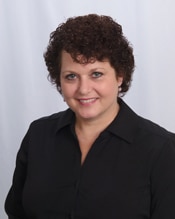 Clinic Coordinator/Clinical Staff
Pam was born across the street from our office at the "old" St. Joseph Mercy Hospital. She grew up in Ann Arbor and attended Allen Elementary School. Pam moved to Scottsdale, Arizona for four years, and returned to Michigan graduating from high school in Milan. Pam went to Washtenaw Community College where she obtained her associates degree in Dental Assisting. She took her national board exam and also became a Certified Dental Assistant. Pam worked in the same general dentist's office for thirteen years before coming to our office.
While Pam has many duties in our office, her favorite activity is keeping her patients entertained while waiting for the doctor. Pam has been known to quiz her young patients on their spelling words as well as give teens advice. She has been heard more than once advising kids that their braces will come off sooner if they keep their rooms clean and get their homework done! She would also love to know what you do for fun.
Pam has been married to Mike since 1981 and they have lived in the same home in Milan since 1983. They have two college-aged daughters, Andrea and Jennifer. Pam also has four dogs, two German Shorthaired Pointers (Jade and Cooper) and two Shih Tzus (Mizuno and Asic).